capacity
---
DELIVERING FOR KIWI FARMERS
capacity
The Honda Pioneer range leads the way in innovative Side-by-Side vehicle technology. Developed to suit the unique farming conditions down under, the Pioneer range is fast becoming NZ's favourite machines to work the land, with 2, 3, 4 and 5 seat options offering you the flexibility you need to get the job done.
Boasting up-to 450kg haulage and 900kg towing capacity, rugged durability and compact dimensions to ensure you'll get a high level of maneuverability for the task at hand. The impressive turning radius will get you out of any tight spot. Striking a balance between size and capability, while still offering plenty of features, that's the Pioneer range to a tee!
Features
Take a closer look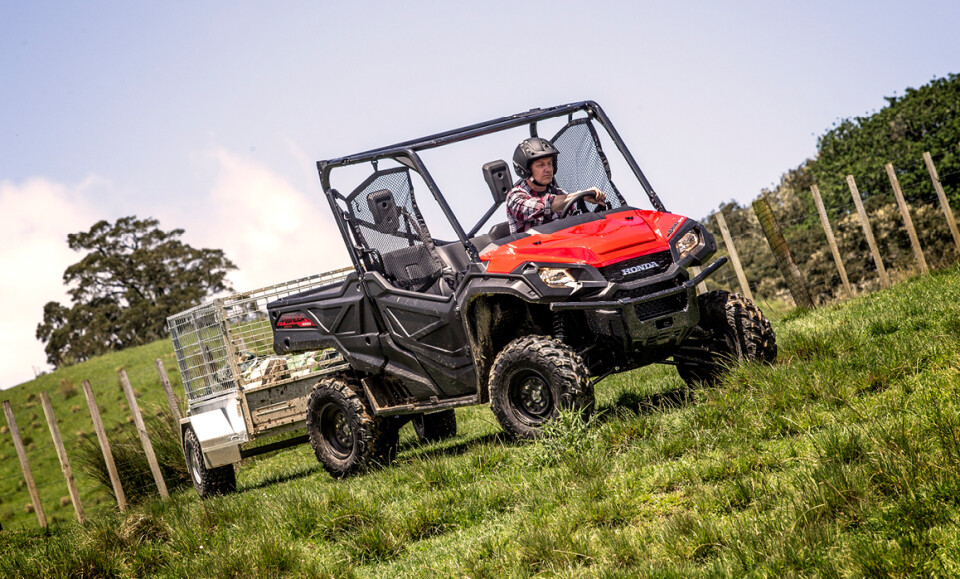 900KG Towing Capacity
---
The Pioneer 1000 range delivers a massive 900kg towing capacity. So instead of hopping on the tractor or taking out the truck, you can stay right in  your side-by-side and tackle those bigger jobs with relative ease.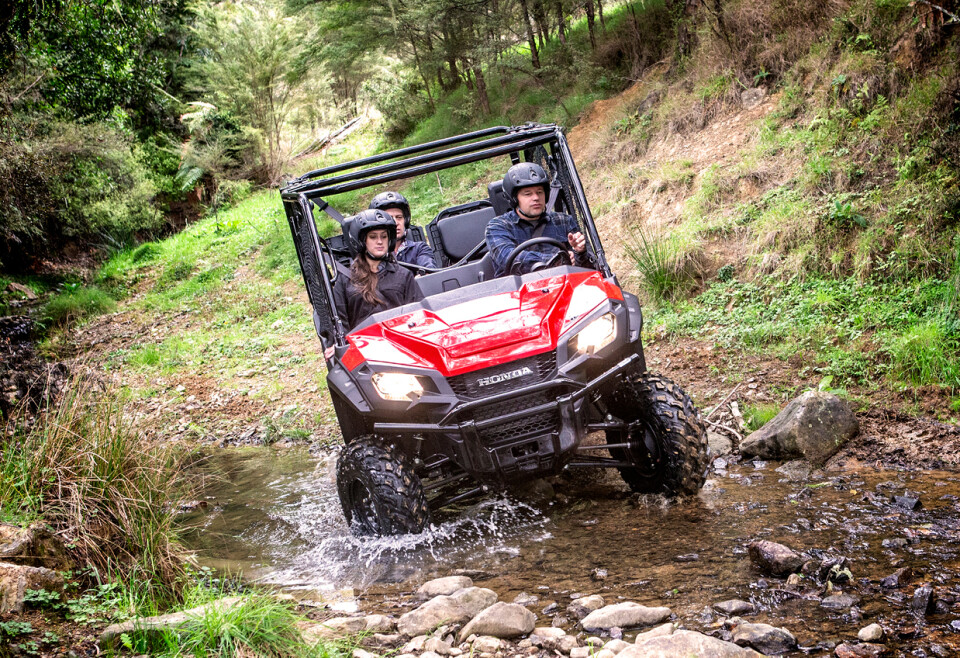 2, 3, 4 or 5 Seat Options
---
You'll be all set as the Pioneer range delivers on comfort, handling, towing and user-friendly features. Big job you can't tackle alone? Bring a mate or the whole crew, with the Pioneer range offering seating options from 2-5 people.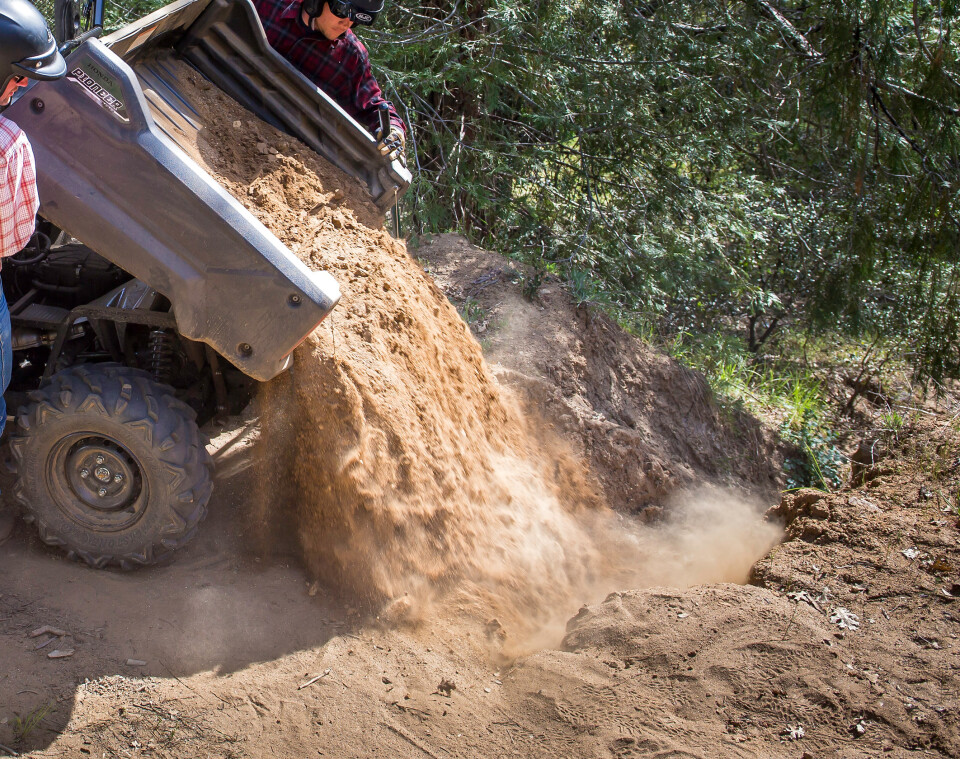 454kg Tray Capacity
---
Boasting up-to 454kg haulage on the Pioneer 700 and 1000 ranges, the Pioneer range deliver rugged durability and compact dimensions to ensure you'll get a high level of maneuverability for the task at hand. Plus with the hydraulic tilt assisted tray, it's easy to unload a tray-load of materials quickly.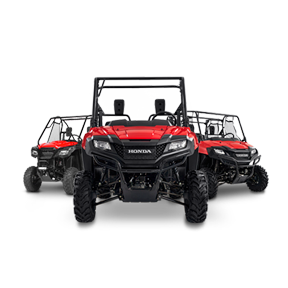 Range of Models
---
With a range of models from the new Pioneer 520 through to the Pioneer 1000. There's a Pioneer Side by Side that delivers the right range of haulage, towing and seat configurations to deliver for your farm or business. Helping you to get the important jobs done.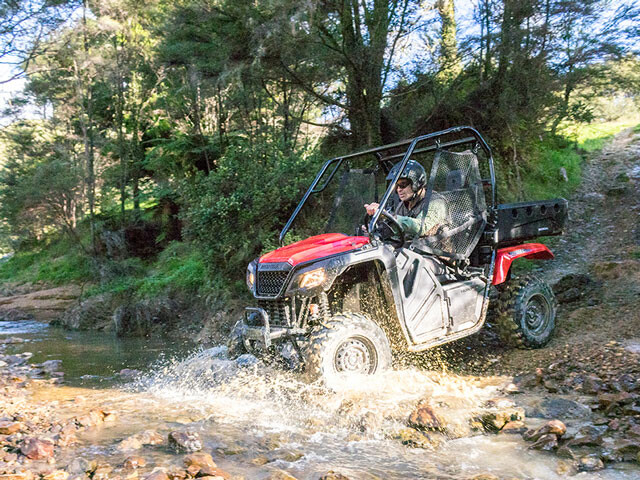 Excellent Manoeuvrability
---
The Pioneer range is big enough to fit the team and all the gear in, but also is compact enough with its short wheel base to offer great maneuverability over tough and rough terrain. The Pioneer range is the ultimate vehicle for around the farm.   
Hear from honda owners
build your pioneer
Honda has an extensive range of accessories available for the Pioneer models. From windscreens, to winches and from bumper bars to roof options. Honda's range of accessories will cover off your needs on the farm.  
Customise your side by side using our Pioneer builder.
AN UNMATCHED DEALER NETWORK
With over 50 Honda dealerships located in key farming locations around New Zealand from Kaitaia to Invercargill, you can rest assured that when you own a Honda you will be able to get assistance when you need it. Authorised Blue Wing Honda dealerships are always key parts of their local rural community and understand the unique requirements for their local region. They share the same long term commitment to the rural community of New Zealand and assist Blue Wing Honda with support of key rural organisations such as NZ Young Farmers. Dairy Industry Association and NZ Herefords. We believe in Genuine People. Genuine Product. Genuine Service.
Find your local Honda dealer to experience the Honda way first hand.  
see the range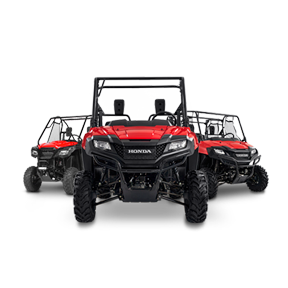 TEST RIDE A PIONEER
---
Had enough reading and want to get riding? Book a test ride using the form below to experience a Honda Pioneer for yourself. Just select your local dealer, fill in your details and we'll have you on the road in no time.    
BOOK A TEST RIDE