Honda ATVs
---
Take a closer look
CLASS LEADing quality
From dairy farms in the Waikato to wind-swept sheep stations on the mainland, farming is not for the faint-hearted. With such a diverse range of farms, often the only thing in common is that your workhorse needs to be tough, reliable, and able to get the job done - in all conditions. The Honda ATV range has offered kiwi farmers all this and more in one vehicle for decades. 
Take a look at some of the great features across the range that make Honda ATVs a staple on kiwi farms.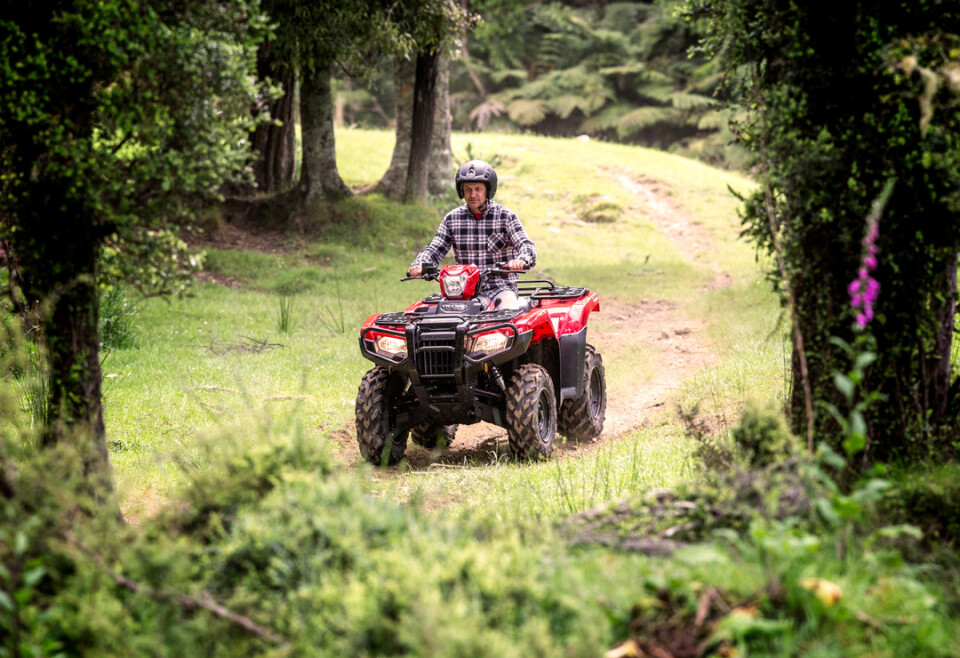 over 45 years On farm
---
Honda has been a fixture on Kiwi farms for over 45 years. Proven to stand the test of time in our challenging farming conditions across the country.
Purchasing a Honda comes with the backing of the comprehensive New Zealand wide Honda support network, with over 50 dealers from Kaitaia to Invercargill. There's a local Honda dealer ready to assist with servicing, sales and parts requirements. Honda dealers understand your needs and actively support local farming groups, trail ride clubs and community events.
Honda are proud to have supported key farming organisations for over 45 years, such as NZ Young Farmers and the Dairy Industry Awards.
Features
Take a closer look
driveline
Honda's ATV range is equipped with a range of driveline features to deliver the best performance and reliability. This includes Honda's unique longitudinally mounted engine design, which delivers more direct drive, minimises power loss and benefits from less moving parts. 
Honda's Traxlok system makes switching from 2WD to 4WD a breeze, along with a front diff lock to maximise traction over rough terrain. Honda  ATV's are built tough for tough NZ farming conditions. 
capability
Honda ATVs are built to get the job done on farm. Honda's focus on smart design, reliable performance, standard-setting technology and unmatched quality have consistently delivered industry leading ATVs.
Honda's unique solid rear axle design delivers a robust, hard wearing system with less moving parts for lower running costs.
The simple one lever reverse gear shift on automatic models make reversing quick and easy. While independent rear suspension models deliver a smooth ride over rough terrain and great towing capacity. 
capacity
The Honda ATV range leads the way in innovative vehicle technology. Developed to suit the unique farming conditions down under, the range are NZ's favourite machines to work the land, with ATVs from 250cc through to 680cc, including the hardworking TRX420cc and TRX520cc ranges. Honda offers you a range of options ready to tackle the farms toughest jobs. 
Boasting up-to 600kg towing capacity and heavy duty carry racks, you can transport the big loads around the farm. With weather proof utility boxes and the pro-connect accessory system to add additional storage with it's quick latch system.    
functionality
The Honda ATV range is built with functionality in mind. Delivering ATVs that are built to last so that you are ready to tackle whatever the day throws at you for years to come. 
Hard wearing materials and body work, smart design, solid mechanical engineering and great agility defines the ATV range. Making them functional, reliable and dependable.  Everything you need in your ATV on farm.
Hear from honda owners
AN UNMATCHED DEALER NETWORK
With over 50 Honda dealerships located in key farming locations around New Zealand from Kaitaia to Invercargill. You can rest assured that when you own a Honda you will be able to get assistance when you need it. Authorised Blue Wing Honda dealerships are always key parts of their local rural community and understand the unique requirements for their local region. They share the same long term commitment to the rural community of New Zealand and assist Blue Wing Honda with support of key rural organisations such as NZ Young Farmers. Dairy Industry Association and NZ Herefords. We believe in Genuine People. Genuine Product. Genuine Service.
Find your local Honda dealer to experience the Honda way first hand.  
see the range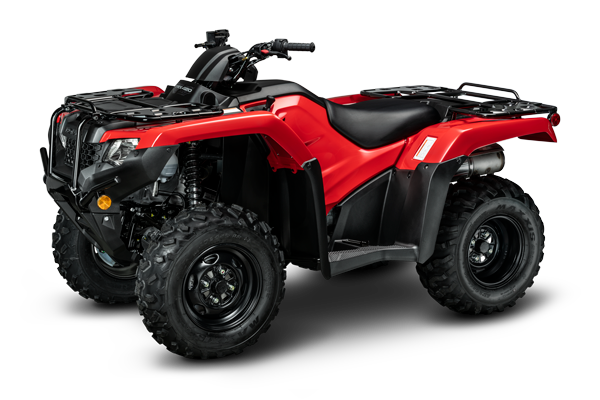 TEST RIDE AN ATV
---
Had enough reading and want to get riding? Book a test ride using the form below to experience a Honda ATV for yourself. Just select your local dealer, fill in your details and we'll have you on the road in no time.    
BOOK A TEST RIDE